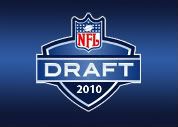 I do not really watch NFL football, however I am a very big overall college football fan and I watch it religiously from the end of August through the beginning of February and the National Championship Game. It is because I watch these players for years that I watch and pay attention to the NFL draft and some very special players, I'll follow their career through the pros.
Tonight, the draft moves into primetime for the first time. How fun! My son, husband, and myself will all be gathered around watching to see who takes whom and then we'll discuss it being a good choice, bad choice, or who really cares choice. It's fun and sports is about the only thing I have in common with my husband.
Some of the players I'll be watching for:
Tony Pike out of Cincinnati.
Myron Rolle out of Florida State
C.J. Spiller out of Clemson
Sam Bradford out of Oklahoma
Brandon Spikes out of Florida
Tim Tebow out of Florida
Ndamukong Suh out of Nebraska
Blair White out of Michigan State
Maurkice Pouncey out of Florida State
Jimmy Clausen out of Notre Dame
Golden Tate out of Notre Dame
Mardy Gilyard out of Cincinnati
Of course, there are many others as well.
I was going to a giveaway and I still am. I was going to have my readers look up this list of players on Monday and tell me in what round they were drafted, but I'm sure most of you don't care. So, I think I'll just randomly pick 7 people out of those that follow my blog publicly for a prize of either a bag of coffee or $5 in ebook bucks from All Romance eBooks. You will have your choice.
This is my own draft. At random I am picking people!
And don't forget, Sweet Caroline will be available on Tuesday, April 27th! I know I'm looking forward to it! Are you?!
~lissa