I am a new author to M/M, however I am not a new reader of it. I have to thank Erica for inviting me to participate in the hop. I agreed readily enough because the outright meanness, harsh unkindness, anger, slander, bullying, hypocrisy, and discrimination against gay, lesbian, and transgender person is appalling. It shouldn't be tolerated. It shouldn't even be a question that they are human and have the right to love who and where they will. It is not for me or you or anyone else to judge.
M/M is one of my favorite genres to read and most definitely one of my favorites to write. It makes me smile when male characters speak to me, when they tell me their story of lust and love and desire. They inspire me. I have several favorite authors in the M/M genre and I will be giving away 3 books from 3 of my favorite M/M authors.
My Fair Captain by J. L. Langley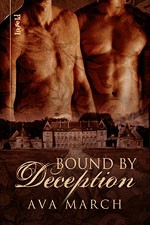 Bound By Deception by Ava March
To win these three books,  you must answer the following question: Who is your favorite M/M author?
It really is that simple, I promise. Now, if you would like, please Like my Facebook page. You may also follow me on Twitter, follow my blog, sign up for my newsletter. The coffee cups on the sidebar are there for you to click to your heart's content. The newsletter form is there for you to sign up with as are the links to follow the blog.
Please be sure to visit the main blog hop site for a list of all the blogs, authors, and review sites hopping along.
 http://hopagainsthomophobia.blogspot.com
I will announce the winner Monday morning, the 21st. And myself or my assistant Brandy will contact you.
~lissa