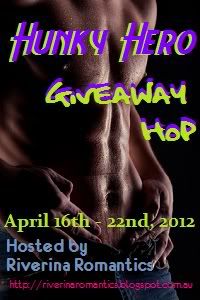 It's time for another little hop around the blogs, dear readers. This time it's for Hunky Heros…
Do you have a favorite hunk from a book? If so, tell me all about him!
I have several that I've remembered over the years from books I've read…
Gray Rouillard from Linda Howard's After the Night
Jeremy Gray from Annabel Joseph's Comfort Object
Mr. Darcy from Jane Austen's Pride and Prejudice
Dermot Ramsey from Susan Johnson's Temporary Mistress
Jack Delvin from Lisa Kleypas' Suddenly You
Nathaniel Hawkins from J. L. Langley's My Fair Captain
Ty Bennett from Delilah Devlin's Undeniable: Dark Frontier, Book 1
And these are just a few…
So, who are yours?
You're wondering about the giveaway, aren't you? I thought so…
All 3 books in the Blue Jeans and Hard Hats series OR All 3 books in the Simple Need series (unofficial)… And $10 in ebook bucks from All Romance eBooks.
What do you have to do? Answer the following question: Who is your #1 hunky hero?
Like my Facebook Fan page (click on the coffee cup icon on the sidebar).
Or…
You can follow me on Twitter (click on the coffee cup icon on the sidebar).
You may also sign up for my quarterly newsletter (form on the sidebar). There are several ways to follow my blog as well… RSS, email, Networked Blogs, Linky Followers (all of these options are located on the sidebar over ——–> there).
This hop is brought to you by Riverina Romantics and I don't think they'd be too disappointed if you decided to follow their blog or Like their Facebook page. 🙂
So, that's it I think… Have fun on the hop!
~lissa

'); // ]]>