Because well, there aren't too many more things sexier at the moment! And DAMN is he sexy! I'd be happy to play with him any day of the year. Hell, he could teach me how to play. I'd pay anything for those kinds of lessons…
My friend Eve Cassidy had her first Ellora's Cave Exotika book come out yesterday. It's a menage. It's naughty. It's got hot yummy pool table action. It's titled, Southern Comfort. And you need a copy and it's available here.
Such a sexy cover, huh? Yum!
Here's a little blurb for you to drool over as well…
Blurb:
Two guys. A girl. One incredible game of pool…
Scarlett wants to escape, even if it's just for a little while. So she heads to Southern Comfort, where she'll find a certain marine she can't get out of her head. And she knows he won't be alone.
Michael spies the uptight woman of his dreams the minute she fights through the crowd. She's sexy as sin and he can't take his eyes off her while she flirts over some liquid courage. When she finally heads his way, it's time to find out if she can live up to her end of the fantasy.
Red-hot chemistry may call the shots, but once you take the double hit… The game is on.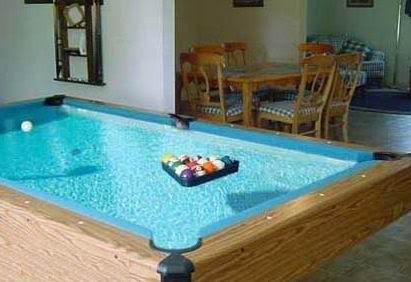 I don't know about you, but I might need to take a dip in this gem of a table here… Interesting, huh?
While I was prepping this post, I ran across some fun facts from the Billiard Congress of America. I'm only going to highlight a few of the facts, but if you want to know more of them, you can find the complete list here.
Pool is one of the safest sports in the world.
The dome on Monticello, Thomas Jefferson's home, conceals a billiard room. In Jefferson's day, billiards was illegal in Virginia.
According to research conducted a few years back, billiard champions have the highest average age of any sport, 35.6 years.
Throughout history, billiards has bridged the gap between the aristocracy and the masses. Both gentlemen and street toughs played.
In 1586, the castle of Mary, Queen of Scots, was invaded and captured. The Invaders made a note of forbidding her the use of her billiard table. They then killed her, and used the covering of the table to cover her body.
Marquetry – the art of making pictures or designs with thin slices of wood, shell or other materials – has long enhanced the beauty of tables and cues. The art form is hardly a recent development. It has been practiced in Egypt and the Orient for more than 3,000 years.
Throughout most of the 1800's, the chalk used on the new leather cue tips was carbonate of lime, better known as blackboard chalk.
What is billiard cloth made of? Amazingly, the main component of billiard cloth has remained unchanged for over 400 years. Wool was used in the 1500's, and remains the fabric of choice today. It has, of course, undergone some perfecting (and some wool/nylon blends are also produced).
The word "cue" is derived from the French queue, meaning tail. Before the cue stick was designed, billiards was played with a mace. The mace consisted of a curved wooden (or metal) head used to push the ball forward, attached to a narrow handle. Since the bulkiness of the mace head made shots along the rail difficult, it was often turned around and the "tail" end was used. Players eventually realized this method was far more effective, and the cue as a separate instrument grew out of the mace's tail.
At times, including during the Civil War, billiard results received wider coverage than war news. Players were so renowned that cigarette cards were issued featuring them.
And my personal favorite, which if any of you have read my book, Carnal Ecstasy, would certainly fall under this category:
The Church has long been a part of billiard history. From its earliest days, the game was often denounced as a sinful, dangerous, morally corrupt activity. In 15th century France, billiards play was forbidden, by the Church, as well as the King. In early American history, actual laws were passed (thanks to religious influences), outlawing the game in many parts of the land.
Congratulation to my friend Eve on her first Ellora's Cave release and in celebration of such I am going to give away a copy to one lucky commenter and give away a copy of Carnal Ecstasy to another on Tuesday, Sept 7.
All I ask is that you comment. Simple enough, yes?
~lissa