I hope you all have had a wonderful day.
We aren't big traditionalists in our house. I grew up going to Sunrise Services and having big dinners after. Easter baskets and candy galore. Hiding dyed eggs. I do baskets for the kids, a little candy, not a lot. We hide eggs, but usually plastic ones. Every few years we'll boil and dye eggs, though. I do cook though. I always cook no matter the holiday. I like to make a nice dinner and a homemade dessert. There's usually a very special breakfast, too.
This time it was Tiramisu French toast. I found this recipe online on a food blog where the woman is beautiful, thin, and has a Trader Joe's obsession. One outta 3 ain't bad in my book when it comes to this. I can forgive her the beauty and the skinny so long as her recipes are delicious and so far, they have been.
People have asked me for this recipe today so I thought I'd post it.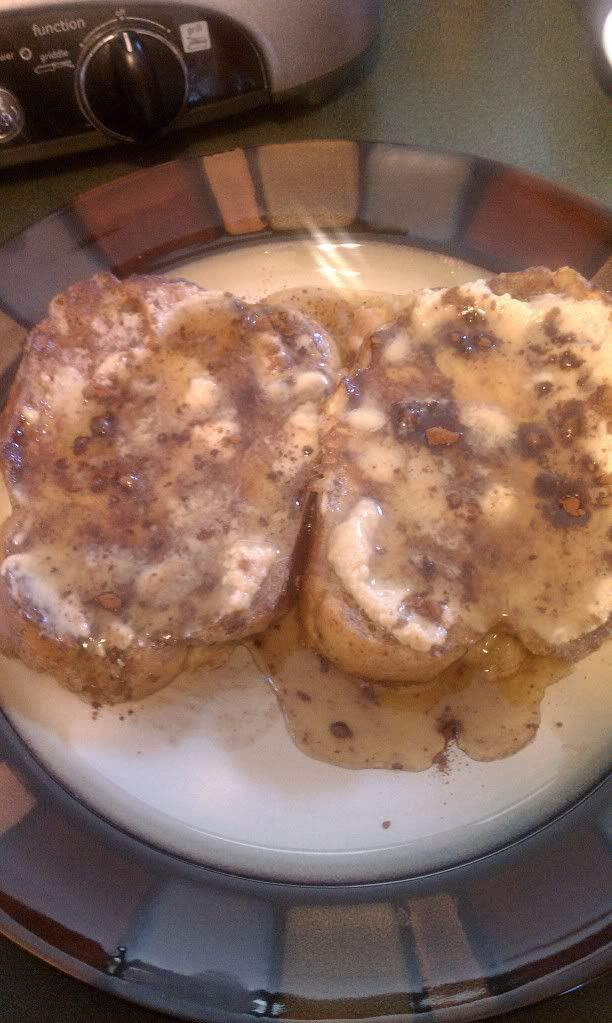 Tiramisu French Toast
serves 4
1 loaf challah bread
8 whole eggs
1/4 cup cream
1 tablespoon vanilla extract
1 cup mascarpone cheese
1/2 teaspoon cinnamon
1 tablespoon instant coffee powder
1/2 tablespoon cocoa powder
1/2 tablespoon sugar
1 tablespoon honey
4 tablespoons butter
maple syrup for serving
sliced strawberries for serving
Slice one loaf of challah bread into 1-inch thick slices. In a large baking dish, combine eggs, cream, vanilla extract, sugar, cinnamon and 1/2 tablespoon instant coffee powder and whisk together. Lay bread in dish and let soak in the egg mixture for about 30 seconds each side.
Heat a skillet on medium heat and add 1 tablespoon of butter. Add French toast and fry until golden brown. Flip (adding more butter if needed, use your judgment) and fry on other side. Repeat with remaining slices of bread and tablespoons of butter.
Mix mascarpone cheese with honey and remaining coffee powder and spread on French toast slices while warm. Sprinkle with cocoa powder and serve with syrup and strawberries.
This is the blog the recipe came from.
It's not as sweet as normal french toast. I think the coffee and the cocoa powder have a lot to do with that, as well as it only uses a 1/2 Tablespoon of sugar. Mascarpone cheese is not a very sweet cheese on it's own. I used Agave Nectar in place of honey. And Trader Joe's has a Maple Agave blend syrup that is just awesome. It doesn't take much of it at all to add just the right amount of sweetness in place of just plain maple syrup. I also used a French Vanilla blend extract.
The whole dish was amazingly good. My son ate every bit of his, so did DH and DH doesn't like anything with any kind of coffee flavor, so… It was definite keeper recipe for special occasions. I foresee a character making this or some variation there of in a future book…
~lissa